6 min read
How Climate Change Will Impact Environmental Permitting

Tim Merlino : Mar 24, 2022
The National Environmental Policy Act (NEPA) was signed into law on January 1, 1970, responding to mounting pressure from a public increasingly concerned about the environment.
NEPA requires that a federal agency assess the environmental, social, and economic impacts proposed "major federal actions" will have before making a permit decision. These actions include land and energy development projects partially or wholly funded with federal money and projects on federally owned or managed lands.
NEPA establishes multiple environmental review pathways that a project may take depending on their impacts. To learn more about these pathways, read our recent blog post Infrastructure Bill Effects on Permitting Process for Land Developers.
Environmental disasters in the 1960s, such as the Cuyahoga River Fire and Santa Barbara oil spill, shaped the original NEPA review, which focused on:
Air, water, and land quality
Threatened and endangered species
Historical preservation
Hazardous materials management
In the past 52 years, public discourse about the environment has shifted. In 1970, climate change was merely a blip on the radar for many environmental activists and policymakers. Today, climate change is the focal point of the environmental debate.
2020 polling conducted by the Pew Research Center found that 42% of U.S. adults describe climate change as "very important" to their vote. In addition to other factors, this concern is more significant among younger adults, suggesting that climate will remain a prominent issue well into the future and will undoubtedly influence how environmental permitting is conducted nationwide. Developers have begun to see these changes in the past six years.
In 2016, the White House Council for Environmental Quality (CEQ) issued a Memorandum (Memo) to federal agencies as a guide to considering air pollution, or specifically greenhouse gas (GHG) emissions, and the effects of climate change in NEPA reviews "to provide greater clarity and more consistency in how agencies address climate change in the environmental impact assessment process." The Memo states that a "focused and effective consideration of climate change in NEPA reviews will allow agencies to improve the quality of their decisions."

In accordance with Executive Order 13693, signed in March 2015, the Memo defines GHGs as:
carbon dioxide (CO2)
methane (CH4)
nitrous oxide (N2O)
hydrofluorocarbons (HFCs)
perfluorocarbons (PFCs)
nitrogen trifluoride (NF3)
sulfur hexafluoride (SF6)
The Memo recommends that agencies proposing significant federal actions quantify the project's direct, indirect, and cumulative GHG emissions and the impacts climate may have on the project that are "reasonably foreseeable." The guidance was withdrawn in April 2017 but was revived in February 2021 and is currently under review for revision and update.
GHG emissions and climate impact considerations can affect projects in any industry that undergo a NEPA review; however, the Memo focuses on the Federal Energy Regulatory Commission (FERC), which regulates the interstate transmission of electricity, natural gas, and oil.
On February 17, the FERC published an Interim GHG Emissions Policy Statement (PL21-3-000), announcing their intentions to assess the impacts of natural gas infrastructure projects on climate change during its NEPA reviews.
Land developers, especially those whose projects cause considerable GHG emissions, should remain informed about these requirements as climate impacts will likely become a staple consideration for many local, state, and federal agencies responsible for approving a permit application.
Minnesota Climate Change Inclusion Pilot Program
Many states legislated similar environmental review processes emulating NEPA throughout the 1970s. In 1973, Minnesota enacted the Minnesota Environmental Policy Act (MEPA), which established the state Environmental Quality Board (EQB), similar to the CEQ, to oversee the MEPA review process across the Land of 10,000 Lakes.
Like in the 1970s, the State of Minnesota was only a few years behind the federal government in adopting climate impacts into their environmental review. In late 2021, the EQB approved a Climate Change Pilot Program for projects undergoing a MEPA review. The process is expected to be finalized in December 2022.
This change is in response to Minnesota's Next Generation Energy Act (Minn. Stat. §216H), which requires state actions to track GHG emissions. The Next Generation Energy Act also aims to reduce statewide GHG emissions by at least 80 percent below 2005 levels by 2050.
Under MEPA, the first step is to complete the Environmental Assessment Worksheet (EAW) to determine if a more rigorous Environmental Impact Statement should be conducted.
The EQB published a revised EAW to incorporate climate considerations, which uses a quantitative and qualitative approach to address climate issues, and a Revised EAW Guidance to help developers understand the pilot program.
All state agencies acting as the "Responsible Governmental Unit" (RGU), who directly oversee the review, must use the revised EAW while local agency RGUs are invited to participate voluntarily.
There are climate considerations in four Items of the revised EAW:
Item 7 – Climate Adaptation and Resilience
Item 8 – Cover Types
Item 12 – Water Resources
Item 14 – Fish, Wildlife, Plant Communities, and Sensitive Ecological Resources
Item 18 – Greenhouse Gas Emissions/ Carbon Footprint
The key to navigating the revised EAW is understanding how climate change is anticipated to affect the specific region your project is in. The revised EAW requires quantification of GHG emissions similar to NEPA and prompts a discussion of how climate change may threaten the project's long-term viability and how the developers plan to mitigate these environmental effects.
The EQB recommends utilizing the Minnesota Climate Explorer Map to understand projected climate trends and implement appropriate Best Management Practices (BMPs).
Minnesota is expected to experience a warmer, wetter climate and more damaging precipitation events. This will escalate stormwater runoff and soil erosion, which can endanger facilities, especially those handling hazardous materials. Therefore, projects will benefit from more robust stormwater management and flood mitigation practices that minimize risk for the project while improving water quality.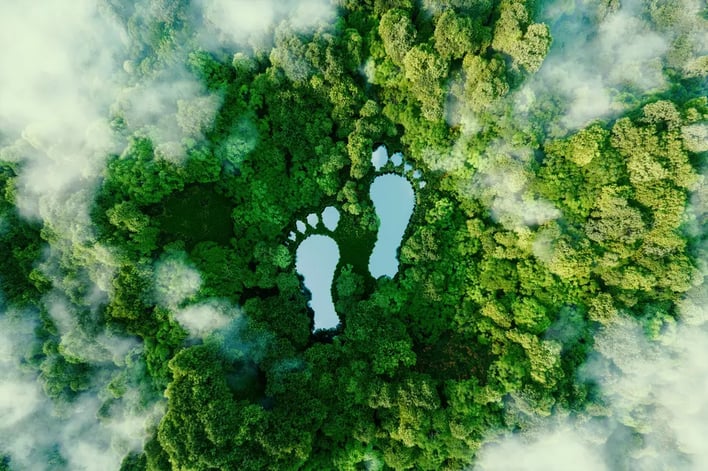 A Case for Including Climate Factors in the Environmental Review Process
Quantifying greenhouse gasses can help regulatory agencies gain a more comprehensive understanding of the environmental impacts a project may have, not only on the local air quality but also on national and global climate trends. This allows regulators to require projects to consider less impactful alternatives, require mitigation and BMPs, or even deny the necessary approvals.
Emission projections supply local communities with more objective data to contest projects during the public comment periods required under NEPA, MEPA, and similar review processes. Additionally, it establishes legal grounds for project opponents to file lawsuits against an agency if they approve a controversial project.
Lastly, GHG tracking can also direct policy-makers to focus on the emission sources most detrimental to climate goals and improve adaptability in strategic planning.
How Will the Inclusion of Climate Change Factors in the Environmental Permitting Process Affect Land Developers in the Long Term?
These regulatory hurdles may have unintended and environmentally detrimental consequences. Assessing climate impacts is tedious and, therefore, costly. Slowing down the planning and permitting processes, especially for clean energy developers, may keep us from achieving a carbon-neutral economy by 2050.
According to Princeton University's Net-Zero America Project, replacing all fossil fuel and nuclear plants will require the construction of 17 million acres of solar farms, 250 million acres of onshore wind farms, and 15 million acres of offshore wind farms. This is roughly the equivalent area of California, Utah, Washington, New York, North Carolina, and Maryland combined.
Finding that amount of suitable greenfield sites that will not impact protected resources such as wetlands and endangered species is becoming an increasing challenge for renewable energy developers. On top of dealing with local zoning codes and conditional use permits, state siting acts, and all of the regulations that fall under the "," adding climate considerations without alleviating other regulatory hurdles will further delay the clean energy transition.

Tony Giunta, PG, the Director of Project Development at Nobis Group, writes:
"[…] if you believe the scientists and their predictions on our limited window of opportunity to slow down climate change, then factoring in the time it takes to comply with regulations alone means we may have already missed the boat. Now it's all about minimizing the devastating aftermath of our regulatory paralysis."
What Can Land Developers do to Limit the Impacts of these Changes?
Even if the climate considerations enacted under NEPA, MEPA, or other environmental reviews have not yet been required on their proposed project, land developers should take a proactive approach to understand these requirements and prepare their teams to tackle these emerging regulatory challenges with proper risk assessment. It is likely that more states, or even local agencies, will incorporate climate impacts into their decision-making criteria for environmental permits shortly.
Transect recommends taking the following steps:
Research the climate requirements already implemented in states you work in. Review any guidance documents the state has published to understand the permitting and reporting protocol better. The early adopters of these climate considerations will likely serve as a model for future regulators developing similar requirements.


Familiarize yourself with the GHG accounting tools that can help calculate emissions during the reasonably foreseeable lifetime of your project. Examples include:
Be sure to remain vigilant for new calculators being developed for your industry.
Identify how climate change is expected to affect the specific region(s) you frequently work in. Understanding these changes will influence what BMPs you can employ to maximize a project's resilience to climate change and satisfy permitting requirements. The EPA provides information on anticipated climate impacts to different regions across the U.S.


Avoid impacts to carbon sinks such as forests and wetlands. Wetlands are especially effective at carbon sequestration. While wetlands account for only 5-8% of the Earth's land surface, they hold 20-30% of total soil carbon. Although these resources are often regulated, impacting them can drive up the project's cumulative emissions. Climate considerations may not only target GHG emissions from the project but also require a calculation of the lost resources that naturally sequester atmospheric carbon.
As scientific and political interest in climate change and clean energy increases, reviews and amendments to regulations are also likely to change. We will see new steps, considerations, and requirements added to the developer's plate as clean energy goals and strategies adjust. Automation and additional state-wide considerations are only the beginning of the new era of land development, due diligence, and compliance. Developers should utilize the aforementioned tools and stay up to date with local and federal regulations that are likely to impact their development processes and timelines.
---
Evaluating and understanding your environmental risk earlier in the process is key to making the right purchasing decisions and appropriately planning your environmental permitting process. Transect allows for early-stage environmental due diligence, so you are never in the dark.