Environmental Desktop Report, Critical Issues Analysis, Environmental Feasibility Study

in Minutes - Not Months
The Transect Platform is a powerful environmental due diligence toolset designed from the ground up to accelerate the land development process.
Mitigate Risk Sooner
The sooner environmental risk is mitigated during the site selection process the higher % of project completion success.
Collaborate and Share
With the ability to export and share custom dynamic environmental reports, everything is simple and all of your data is stored on a single platform.
Complete More Projects
Land Developers that start with land parcels that have Environmental Reports, complete exponentially more successful projects.
We Empower You To Take Control
Transect empowers land developers to finally take control of the environmental permitting process. The Transect platform generates a bank-accepted environmental report in minutes.
Imagine having all your reports, siting tools, and sharing tools with robust collaboration all at your fingertips.
Anatomy of the Transect Platform
For the first time land acquisition and environmental permitting teams can collaborate, advance, and share projects via a single platform.
At the heart of the platform is the Transect Report. The Transect Report is a game-changer leveling the playing field. No more endless waiting for overpriced, under-detailed, static findings from an environmental consultant.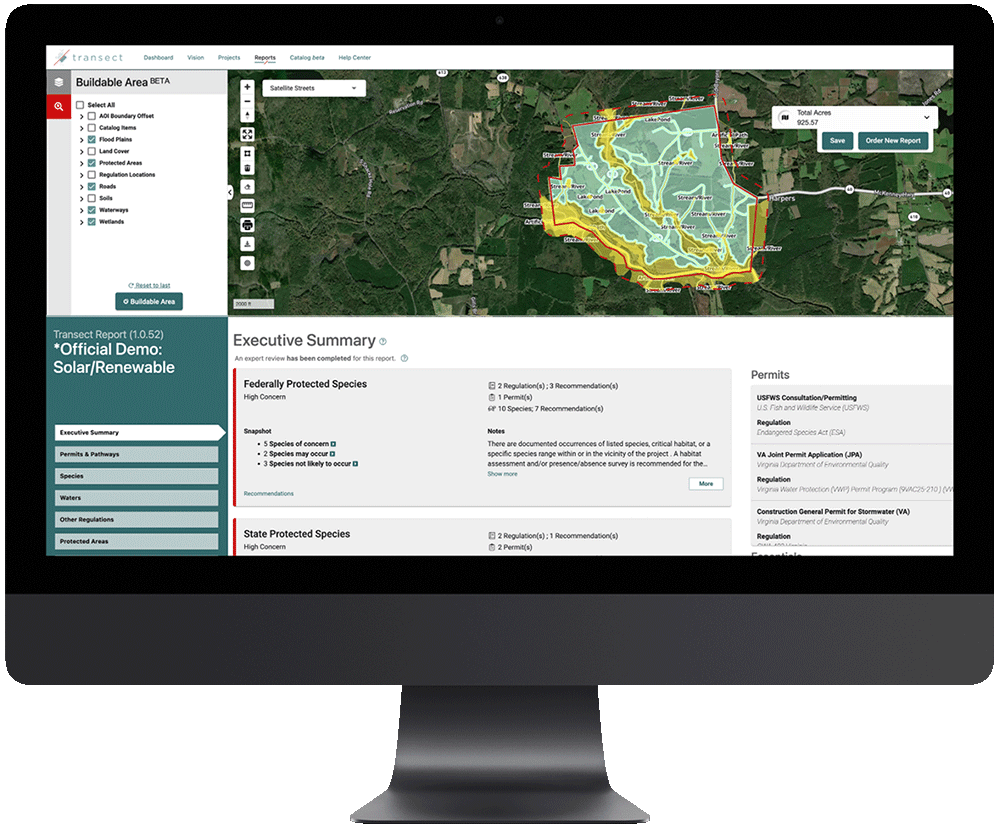 Buildable Areas Tools
In the top left of your report are a robust set of tools that enable you to ask, "What If." What happens if I change the buffer zone? What happens if I reduce the parameter from a mile to half a mile away from power transmission lines? The ability to work through a myriad of possible project scenarios with your team before finalizing your Report is now at your fingertips.
Collaboration & Sharing
Once you and your team have settled on the site parameters, it is now time to build, export and share your Transect Report. This toolset enables you to add or omit relevant sections so that your reports are concise and tailored to your audience. Need a "Bank Ready" PDF to share with your funding source? No problem. Need a report frequently built with the same parameters? Easy – create a template with the press of a button. Need to include Maps and share them as a KML or PDF? Simple – all of your data is now stored and shareable from a single platform.
Mapping & Site Selection
Included in the Transect platform is a full suite of Site Selection & Mapping tools on par with your favorite GIS software. When combined with Transect's reporting engine on a single software platform, you can take control and accelerate the environmental due diligence process.
Introducing Ghost Waters™!
Ghost Waters™ is a proprietary Transect data layer that helps you identify unmapped waterways that may be under the jurisdiction of Federal or State governments early in your development process to prevent project delays and costly permitting.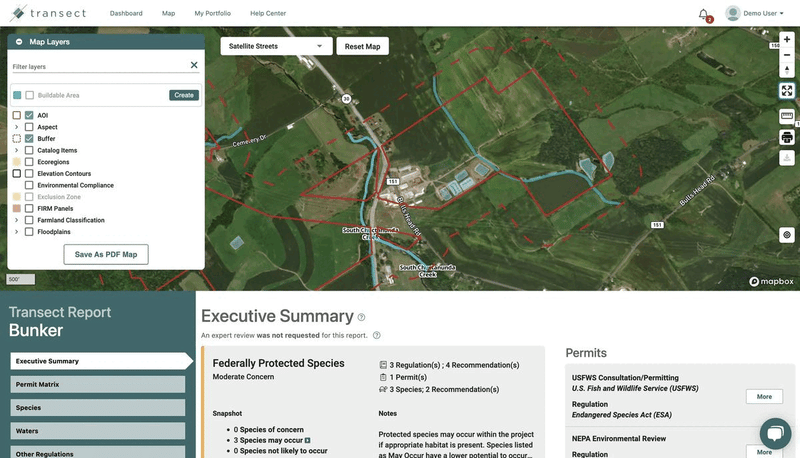 Need recommendations for a regional consultant? Want to talk to a biologist about the wetlands permitting process?
Included in your subscription is direct access to our team of environmental experts.

Local Environmental Rules And Regulations

State Historic Preservation Office (SHPO) Records Search

Planning And Zoning Reports

Slope And Aspect Calculations
Transect has been one of the most useful and convenient tools I've used in my experience.
Plains All American Pipeline