Fully Tailor Your Environmental Risk Analysis
by Transect Team, on Sep 1, 2021
An environmental risk analysis is a crucial aspect of development. This analysis outlines extensive detailed information, but sometimes everything doesn't apply to everyone in each stage of development or your key stakeholders - leading to clutter on presentation reports and more time burnt up in meetings.
Trying to perfect these presentation documents for your audience leads to hours messing with PDF editors and fickle GIS platforms in an attempt to accurately show your stakeholders only the things they care about. We know everyone has their own version of "need-to-know" information, so why not have control to show everyone only what they need to see?
Our PDF Builder was built with this problem in mind- allowing for easy customization of the PDF deliverable of your environmental risk analysis and sharing across teams. With the ability to customize your PDF, you can meet the unique needs of whomever you are presenting to.
Here's how it works:
1. Run a Transect report to get all your in depth environmental risk information for your site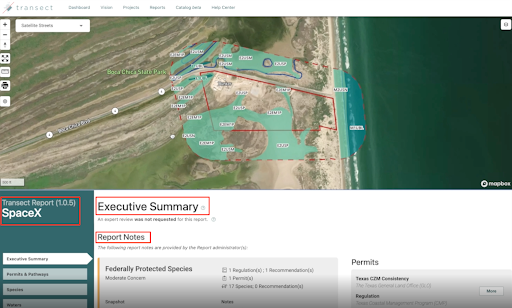 2. Create custom maps to visualize concerns such as transmission lines and wetlands (with no GIS skills required!)
3. Use our drag and drop feature to select what information you want to keep, add in, or drop from your PDF. For example, you can add in our permit matrix, species, waters information, and more!
4. Generate your custom PDF
5. Use the information to go build something incredible!
Now your team can spend less time combing through an environmental risk analysis, and more time discussing your next steps towards project success.
---
If you want to learn more about our new PDF Builder, any more new features, or get an in-depth walkthrough of the platform that is revolutionizing project planning, you can book a demo call NOW!